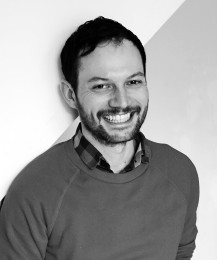 Damien Cuypers
ダミアン・カイパース
Damien Florébert Cuypers grew up between the Jura and Alps mountain ranges in east-central France. He graduated in 2006 from the prestigious arts college Ecole Emile Cohl in Lyon, France. In his final year, he created an animation piece, "LE TROU DE MON QUAI", which was shown in many animation festivals worldwide, including the Rio Erotic animation festival.In 2010, he illustrated a children's-book version of the iconic Rimbaud poem "Le Bateau Ivre".
Currently, he does a weekly illustration for the French fashion magazine Grazia as well as illustrations and animations, often in his unique crayon style, for the New York Times' T magazine, M le magazine du Monde and the popular British website nowness.com.
He is currently working on a few animation projects including a short film on farts and a philosophical mini series.
Damien's unique One-Minute Portraits of celebrities such as Terry Richardson caught attention and made him a respectable artist in the fashion scene.
ダミアン・フローレベール・カイパースは、フランス中東部のジュラ山脈とアルプス山脈の間で育った。 2006年にフランスのリヨンにある名門芸術大学エコール・エミール・コールを卒業。 最終年には、アニメーション作品「LE TROU DE MON QUAI」を作成し、リオ・エロティック・アニメーションフェスティバルをはじめ、世界中の多くのアニメーションフェスティバルで上映された。2010年には、児童書版の象徴的なランボー詩 「Le Bateau Ivre」を描いた。
彼は毎週フランスのファッション雑誌Graziaで毎週イラストを描いているほか、ニューヨークタイムズのTマガジン、M le magazine du Monde、イギリスの人気ウェブサイトnowness.comで、独自のクレヨンスタイルのイラストやアニメーションを製作している。
現在、'おなら'の短編映画や哲学のミニシリーズなど、いくつかのアニメーションプロジェクトに取り組んでいる。
テリー・リチャードソンなどのセレブリティーを題材にした、ダミアンのユニークな1分間のポートレートは注目を集め、ファッションシーンで有名なアーティストになった。
clients
Bon Appetit, British Vogue, David yurman, Grazia magazine, New York Times' T magazine, M LE MAGAZINE DU MONDE , Le Temps, Lufthansa magazine, Maison Bonnet officiel, Neue house, nowness.com, Vanity fair and more.